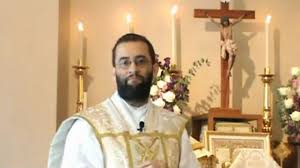 ASIAN REPORT
Dear Fr Pfeiffer
Thanks for waiting so long; as i was preaching a one man show retreat in Tagaytay... and i am not like Josey Wales, capable to preach a whole retreat, carry the sollicitude of all the Churches, run a worlwide resistance network and spiritualdirectionize lost souls on the otherside of the hemisphere via cell phone.
Bishop Williamson trip in Asia was a shot in the arm for all centers. He saw 400 people, gave 52 confirmations, lots of speeches, consecrated two Chalices and his good humor, punch lines and british touch were totally enjoyed by everyone. He is up and running, but I agree with you, his fourth piston is yet to fire. but the fact that we discussed so long on the issue demonstrates that at least he is not irritated by the question and expresses a willingness to understand that if he departs this world, leaving us orphans, either his soul is lost or we don't need sacraments. "You are almost making me a Christian"... did he tell me as i was piling arguments sky high. Fr de Tanouarn, a prince among our french liberals, says he will not do it; I think it is an omen to the contrary.
As a consequence i feel fully exonerated from the obligation to come to Virginia. I have done my part. But, could you please give him a copy of "Gods and Generals" as a birthday gift, or at least play Stonewall's Virginia speech on a big screen, saying: "Just as we, would never march into any other place, and novusordoize other people, so we would never allow anybody to march into our place, and novusordoize our people!"
The Korean Group is growing; 40 were present for the Confirmation on Sunday. The next Sunday mass after the Bishop's visit, the chapel was almost full, and plenty young with new faces, but i cannot tell if we are going to get back to pre-2012-crisis levels in Korea.
In the Philippines, the Manila ceremonies at Emmy Cortez' went very well for the little group. Again, the house of Julie Cordova is now too small for Sunday Mass. We have to look for another place, all the while the Tanay group is calling us, thanks to Fr Suelo. Manila area is then 100 souls, but i think the XSPX is going to counterattack in Tanay. Fr Suelo says they will hold. The coming of Fr Suelo is the key outcome of the Bishop's visit in Manila. If he continues like that, other soldiers are going to join. For my part i am immensely relieved by this one good old fighting priest. Fr Suelo is as old school as old school can be, as you know so well.
In Leyte 150 people showed up in Maasin, they came also from Santa Cruz, Sogod, Ormoc and Hindang. The Bato people have been totally brainwashed and call us schismatics, like Fr Laisney (who, by the way, refuses to reply to "L'illusion Liberale II" and calls me insane). His Lordship really liked his stay, it was like vacations for him, walking by the sea shore and enjoying my outdoor chess defeat at the hands of Fr Suelo. We had a procession of the Blessed Sacrament down the streets of Maasin, with plenty of missing liturgical items and rubrics, but the Good Lord understand that we come from almost zero. His Lordship looked in the Maasin situation and concludes the same as us: high handedness on good people that should have not be molested or scandalized.
Then we crossed to Dagohoy in Bohol, to a group that has been traditionnal for 20 years, but that was never visited by a bishop for confirmations. They were 40, 13 of them confirmands. The Bishop really liked that little chapel, in the middle of nowhere, and of course our main man, Romeo, was absent! Philippinos will be Philippinos! I wish he could have met Loyd also, the backup man!
Then we crossed to Cebu and met 50 people, half of them so late that those among them who needed it could not receive confirmation. Ramses did a great work. We were in a hurry, but the Bishop gave three speeches (because of the late comers), breaking spears with attorney Bakalso, whom i still respect very much. I also brought the Bishop to Lola Bertha, who was a bit confused because she is being blocked from letting the bishop that blessed the chapel on her property celebrate the Mass and Confirmations ten years later. But again, the Bishop was happy to see her and told her it was all right and that he understood the situation. I am going to begin to give Sunday Masses for Cebu, thanks to the flex given by Fr Suelo, whose health is improving just as we make him move around. The confinement in his room, day after day, in Manila, appears to be the cause of his lung problems. To be confirmed, though. I cross my fingers.
Another thing worthy of note; His Lordship told us to do all we could for the three or four aspirants to the Priesthood; then he went down and blessed the future house in Batangas. It should open in September. But if candidates can be shipped over to you, that would be still a solution that i would prefer, because there is not enough of us, (even if Fr Kramer comes for a few months), to train them fully. The Bishop told me to teach them the elements: Latin, Scripture, Encyclicals, History and English. No spirituality. Nothing going in to their heads, the total opposite of the Castle in Spain in Virginia. I really trust that you are going to do the same with the Seminary on the Hillbelly, under the laughs of the fancy clerics of our time. I am ready, as promised, to give you three months in three installments per year to help you in that task, and if i get a third priest for East Asia, whithout requesting you to swap your Mass circuits with me, even if it would be best. everybody is waiting for you.
Then we flew to Singapore, for 20 people, mostly from the Yeo Clan. They were very good and talked at length with His Lordship. He took a good 48 hours rest, just as we went to admire the glory of Babylon the Great. As it is my custom, I read him the corresponding chapters of the Apocalypse from the top of the Sands Hotel and Casino, the craziest babylonic place that i know of. We also had some tea at the Raffle's Hotel, a brilliant relic of some forgotten power's past.
The key people of the Malaysia group being abroad, i cancelled the visit of the Bishop, but they are going to receive monthly mass starting July. We also omitted Japan (15 souls), Iloilo (20 people yesterday), and other small centers together with the new groups that are calling us now and that i have not started to visit myself.
The news in India is good, Fr Valan is indestructible, Fr Pancras is joining the fray nicely, and preparations for Australia are almost complete. Ils ne passeront pas!
 Come in November.
In Iesu et Maria,
Francois Chazal sspx-mc