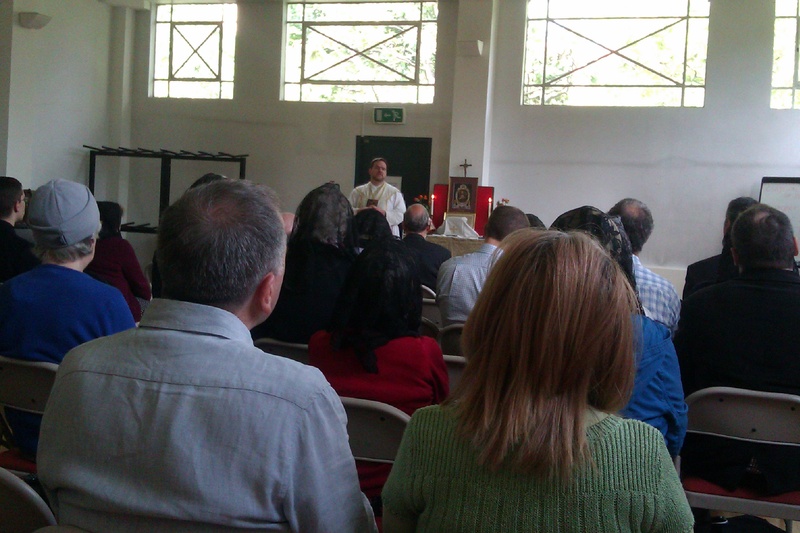 To those of you who were unable to come and who wish to know how things went, we apologise for the lack of updates and for delay in uploading recordings/videos. Our 'chief technician' is a very busy man, but he is working on it, and we'll hopefully have the recordings and videos available soon...
.
Here is a brief summary:
.

On Saturday, fifty or so people gathered for the opening Mass, celebrated by Fr. Hewko, numbers rising to around 70 by the end of the afternoon. On Sunday around 50 faithful attended, although some of them were different people from those who attended on Saturday. We estimate a good 100 or so people to have attended at some stage during the weekend. [We were interested to learn that Bishop Fellay's conference in Burghclere attracted not many more, one eyewitness telling us that only around 80 people sat through his three-hour-long talk, many of them appearing very unimpressed. We know that some of those 80 were people who agree with us and who don't agree with Bishop Fellay at all. And this number is despite the fact that Bishop Fellay was speaking in the numerically biggest and physically largest parish in the district; despite the fact that our District Superior has been urging everyone to attend, in sermons and on the District newsletter, for weeks; and despite the fact that Bishop Fellay had an almost-captive audience due to confirmations having taken place earlier on the same day.]

.

Missa Cantata on Sunday was followed by the renewal of the Consecration of the SSPX to the Immaculate Heart of Mary, first done by Abp.Lefebvre in 1984, and which Bishop Fellay will no longer renew.
.

Throughout the weekend, messsages of support sent to the organisers were read out. One from Dr. David Allen White, who sent his encouragement and prayers and regrets that he was unable to attend. Another from the Carmelites of Brilon Wald promising their prayers for the success of the conference and for the Resistance in our country. Another from Fr. Patrick Girouard, in which he announced that he had now set up a Resistance priory and chapel in Canada.
.

Everyone present was of one mind regarding the current crisis in the SSPX. An atmosphere of consolation and hope abounded, and several people have told us that it felt just like how they remembered feeling in their first days withthe SSPX, years ago. Many people have now decided that they can no longer in good conscience support or attend Bishop Fellay's new Society with its doctrinal aberrations and bullying, unpastoral bureaucracy. We will no longer remain under Bishop Fellay. One practical result of this is that a Resistance Mass Centre is now a permanent fixture in London.
.

Heartfelt thanks go to all those who kept us in their prayers, for the Fathers who took time to travel to visit us, and to the faithful in other parts of the world who, on our account, were without these excellent priests for one weekend.

.
Please await further announcements.